WordPress is by far, one of the simplest and easiest ways for you to create professional-grade websites/blogs in a matter of few clicks. For example, you can alter your site's design and aesthetic by installing WordPress themes. Similarly, you can install WordPress plugins to incorporate additional features and functionalities. For the purpose of this read, we will be looking at some of the best WordPress themes and plugins that can help you create an awesome food blog.
So without further ado, let's get started:
Top 3 Food Blog Themes for WordPress
Food blog WordPress themes will change your site's layout and also add unique design elements. It will help you create an awesome platform to showcase all your best recipes and to talk about your favorite dishes.
Here are some of our picks for the best food blog themes for WordPress:
Foodie Pro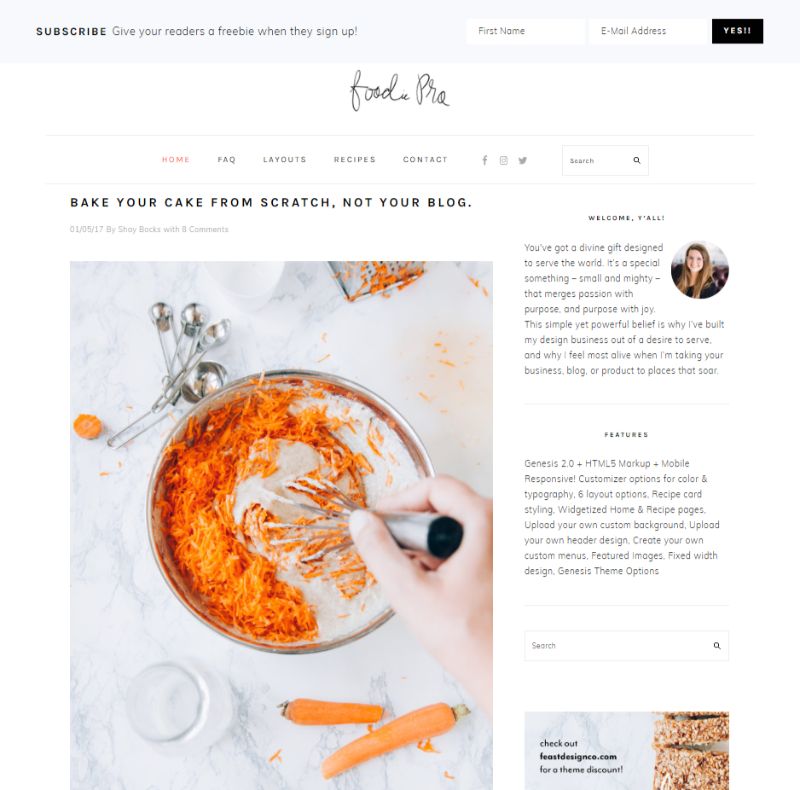 Foodie Pro offers a clean and simple layout to help you create a modern looking food blog. The theme embraces the new minimalistic design style with a lot of white spaces so the reader's attention is always on the content put on display. View Foodie Pro Demo.
Foodica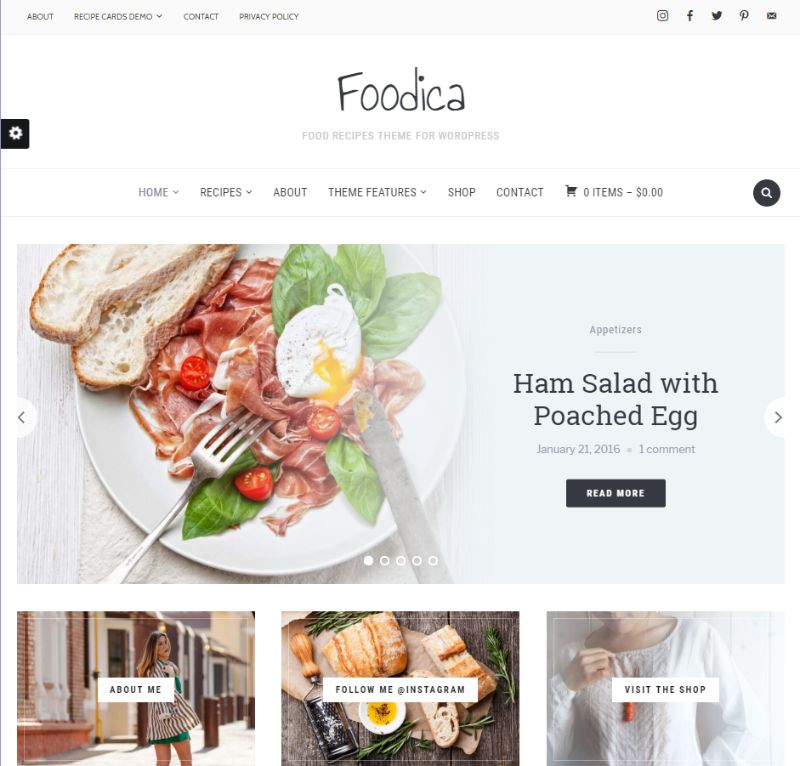 Foodica is a customization heavy WordPress theme to help you create food blogs and recipe websites. A rich options panel is available which lets you create colorful and eye-catching layouts to showcase all the delicacies. WooCommerce integration is also provided so you can sell your recipes to your readers. View Foodica Demo.
Sprout & Spoon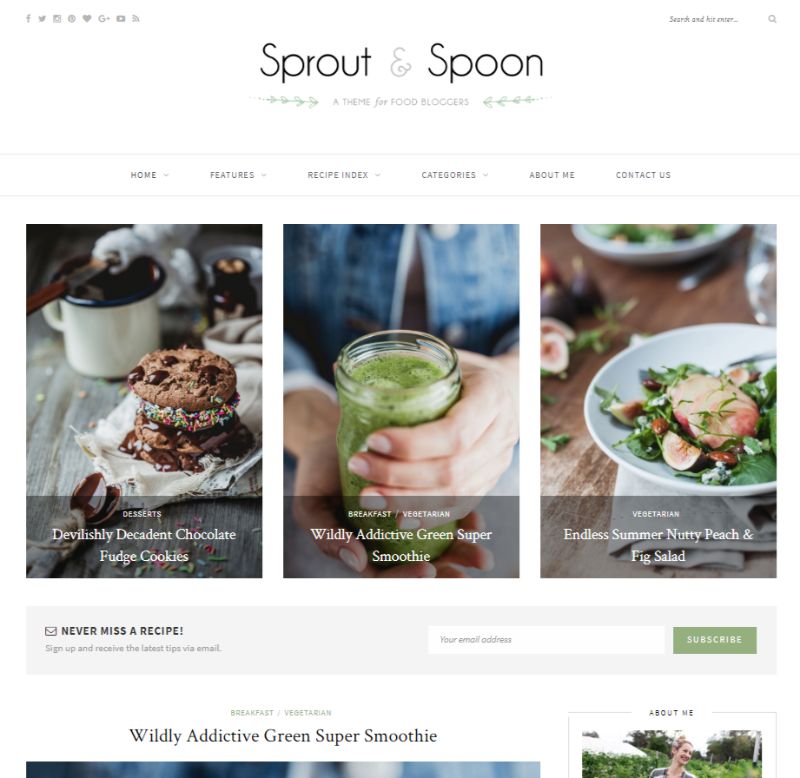 Sprout & Spoon WordPress theme offers a clean and elegant design layout ideal for chefs and foodies to share their favorite recipes with the rest of the world. Customization options are plentiful and paired with seven different blog post layouts to showcase your recipes in a unique fashion. View Sprout & Spoon Demo.
Top 3 Food Blog Plugins for WordPress
Food Blog WordPress Plugins will introduce niche-specific features that will enrich your site's user experience and also provide a lot of admin side advantages.
Here are some of our picks for the best WordPress plugins for food blogs:
WP Ultimate Recipe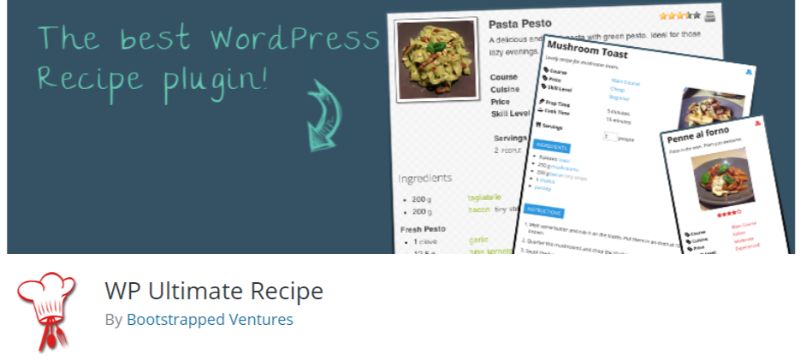 WP Ultimate Recipe WordPress plugin helps users add feature-rich recipes to any post or page on their website. Users will be able to find the exact ingredients by adjusting the servings, print out recipes, find recipes based on a specific ingredient, and much more.
A premium version of the plugin is also available which introduces many more advanced functionalities.
Instagram Feed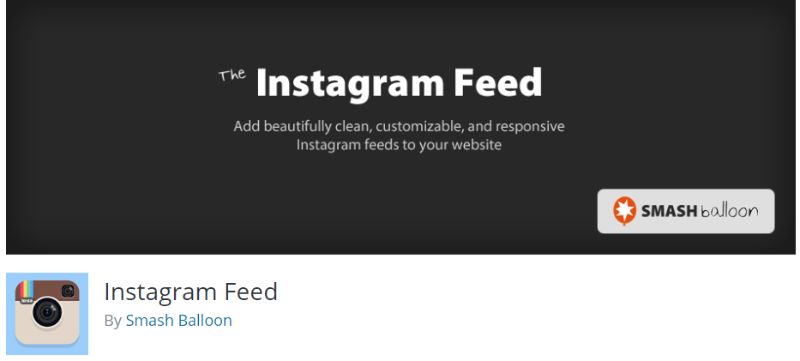 If you are passionate about food, it is highly likely that you share quick clicks on all fascinating dishes on Instagram. If that is the case, then with the Instagram Feed WordPress plugin you have the option to display all those Instagram posts from your account, right on your WordPress powered food blog.
ShortPixel Image Optimizer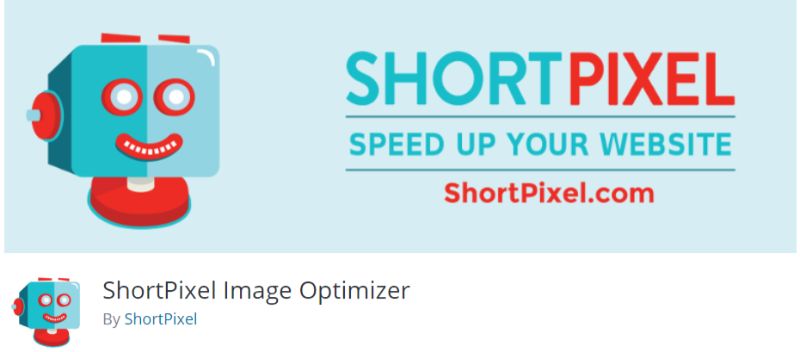 Running a Food Blog means you need to upload a lot of images. Now images are heavy files which can slow down your website. To avoid such issues you can install the ShortPixel Image Optimizer WordPress plugin which will compress and optimize the image files so they are reduced in size and maintains that delicious look.
In Conclusion:
So these were our picks for the best WordPress themes and plugins for creating an awesome feature-rich food blog. Do let us know if you found the read to be helpful and which themes and plugins you plan to use for your projects. Veteran users are also welcome to share their picks for the top WordPress themes and plugins that has helped them create some stunning food blogs.